A new era for space exploration and research has begun: humans are now starting to embrace a whole new set of thoughts towards the universe and are becoming more and more involved in space-related topics, as they are now a fundamental part of everyday life.
Hope, prosperity, curiosity, determination, passion, ambition: these are the principles that guided the crew of the Inspiration4 mission, which successfully lifted off on Sept. 16 at 00:22 GMT, settling all the basis for the new frontier of the space tourism, as the crew is entirely formed by civilians. The mission's primary goal is to raise awareness for St. Jude Children's Research Hospital through the help of Jared Isaacman, CEO of Shift4Shop, who purchased the multiday flight from SpaceX. $200 million was the fundraising goal set, with $125 million donated by Jared Isaacman himself.  The target was successfully fulfilled, raising a total of almost $240 million.
Innovation and research that will be conducted
One of the biggest reasons that make Inspiration 4 a significant milestone in the space sector is that the non-professional crew orbited around the Earth for three days at an altitude of 575 km, while previous launches only took passengers to suborbital trajectories and returned to the surface few minutes later. On the contrary, Inspiration 4 emphasizes public involvement in space missions and orbital trips. Moreover, during their permanence in space, the crew conducted experiments in a microgravity field, aboard the Crew Dragon capsule "Resilience", which was carried to space by SpaceX's Falcon 9 rocket.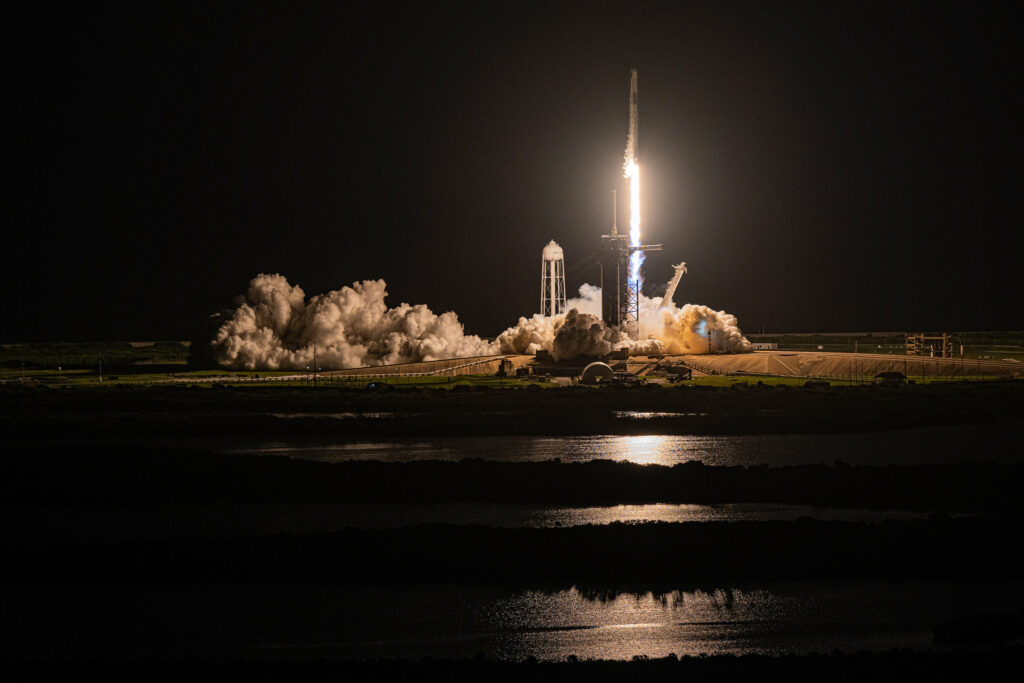 The crew helped to perform medical experiments in zero gravity conditions, taking blood samples, sampling their personal biomes, and "swabbing the walls of the spacecraft". Their research initiative is based on the desire to increase humanity's knowledge on the impact of spaceflight on the human body, so they carried out investigations on human health and performances, collecting all environmental and biomedical data that will have many applications in future human flights. The experiments were sponsored by TRISH, a virtual institute that finds and funds disruptive science and medical technology, and includes:
Collect research-grade ECG activity, movement, sleep, heart rate and rhythm, blood oxygen saturation, cabin noise and light intensity.

Perform a series of tests in the Cognition app designed to assess changes in behavioural and cognitive performance.

Scan organ systems via a Butterfly IQ+ Ultrasound device designed with artificial intelligence guidance for non-medical experts. Data collected will determine if non-medical experts can self-acquire clinical-grade images without guidance from ground support and provide a timeline of biological changes before and during spaceflight.

 

Collect and test drops of blood during spaceflight for markers of immune function and inflammation
All the research was conducted collaborating with Weill Cornell Medicine to perform a longitudinal, multi-omics analysis of the crew, and the results were made accessible through an open data and repository funded by TRISH.
Crew members
Jared Isaacman: commander and main lender of the mission. Founder of Shift4Shop and Shift4Payments. He selected the other three members from St. Jude's staff through an entrepreneurial competition and a charity lottery.
Hayley Arceneaux: bone cancer survivor at a young age and now a Physician assistant at St. Jude, the hospital that saved her life. The first person to fly in space with a prosthetic arm and the youngest American to ever fly in space. 
Chris Sembroski: Air Force veteran and mission specialist for Inspiration4. He has conducted several simulated space shuttle missions and supported STEM-based education designed to inspire young minds, selected among the donator to the fundraising campaign.
Dr. Sian Proctor: geoscientist and communication expert, pilot of the mission. Analog astronaut, she has completed multiple Earth-based missions that simulate the isolation of living in space, recently selected as an Explorer's Club 50: Fifty People Changing the World.
All the crew members have received astronaut training by SpaceX, performing numerous simulation flights and spending over six months in training.
Follow the mission step-by-step!
To accentuate the public involvement of the mission, all the behind the scenes and focal passages of Inspiration4 were broadcasted on Netflix, starting from Sept 15. The episodes of the series focus on the training for all the crew members and all the preparations that can't normally be seen by the public, then moving on to launch and lastly, the landing. So if you don't want to miss any significant part, make sure to watch the series on Netflix!