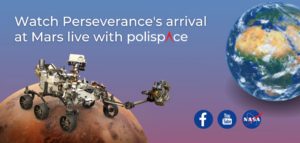 Join us on February 18, 2021, and watch in live streaming the landing of NASA's Perseverance rover on Mars!
Launched on July 30, 2020, the rover is designed to better characterize the geology of the planet and seek signs of ancient life. In the past decades, every mission towards the red planet has shown that Mars was, about 4 billions of years ago, very different from the cold, dry planet that it is today. Several orbiters and rovers contributed to gathering evidence of a vast amount of liquid water on the surface, including large oceans. Further investigating such characteristics could potentially bring us to the discovery of ancient forms of life.
Perseverance payloads and instruments will surely make discoveries that will give a new perspective on the history of our neighbour planet. Are you ready for its landing?
Watch the landing phase streaming with PoliSpace! The event will be live-streamed on 
Youtube
 and 
Facebook
, on
February 18, at 8:15 p.m.
Since there will be no host during this live event, we will provide a platform for you to ask and answer questions, and leave your comments.
 Don't miss the chance to directly interact with the PoliSpace community!